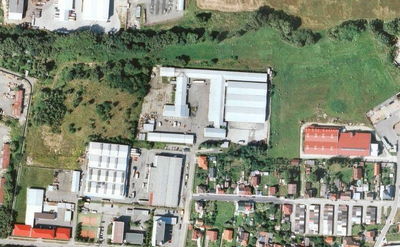 Company ZÁRUBA FOOD a.s. is a traditional czech producer of mayonnaise, tartar sauce , delicatessen and egg semi-finished products. The history of the company is dated in the early 70s , when they were built first buildings of the former state enterprise engaged in the sorting and selling eggs. Gradually we have expanded the production of mayonnaise, tartar sauce and semi-finished produts.
The present form has been set after privatization in 1992, when were finished all constructions of large-scale cold storages and freezer spaces. After privatization has gradually changed the legal form of a natural person to a limited liability company (1994 ) and then to a joint-stock company (1996 ).
The experience of more than 30 years in production along with product and technology innovations and with maintaining traditional recipes provide the company a stable position on the market. Gradual expansion of another production programs, incl. improving the logistics services, is positively perceived by our customers and this trend obliges us to further development . The company currently employs 50 people and produces over 120 kind of products.
The company has been certified in quality management system ISO 22000:2006 , IFS Food – high level
Significiant moments in the development: 1992 – 1997 wholesale sales of groceries, fruits and vegetables
1995 – 2004 government contract- main supplier for Army of the Czech Republic
1996 – 2003 100% of shares in company Doprava Vodňany – F, s.r.o.(former branch company), presently DOPRAVA ZÁRUBA M&K s.r.o.
1999 – awards Embax-Print for packaging of mayonnaise and tartar sauce (glass)
1999 – awards Packaging of the Year for the glass MAJO 185 ; 245 a 325ml
2003 – Certification ISO 9001:2000
2003 – document of approval and registration
2004 – awards Klasa – Mayonnaise "Zárubova" with yoghurt and Mayonnaise "Zárubova jihočeská "
2004 – Certification HACCP
2006 – awards Klasa – Tartar sauce "Zárubova jihočeská" and Tartar sauce "Zárubova" with chilli
2006 – awards – The best quality supplier of the year 2006 for the TESCO chain
2006 – distributor Frisch&Frost for Czech Republic – producer of frozen potato products and sweet specialities
2007 – Certification ISO 22000:2006
2010 – Certification IFS food
2010 – distributor Egga food for Czech Republic – producer of shell eggs and boiled eggs
2011 – distributor Balticovo for Czech Republic – producer of whole egg products
2014 – the change of name – ZÁRUBA FOOD a.s.